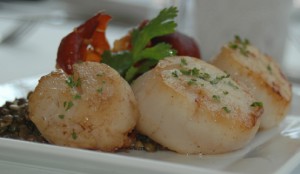 So, I'm not going to tell you too much about my recent date, since my good 'ol mom reads this blog, but I will tell you all about the food.  One word – YUM!  We went for a first date to Azu which is a Spanish restaurant on Ojai Avenue.  It was completely over-the-top, out-of-this-world delicious.
We started with the Arugula and Dried Fig Salad.  I'm not usually a fig person, but this was amazing.  It was filled with figs, argulula, ham, feta and almonds and had a great dressing drizzled over it.  We also shared another appetizer since my date said he loves brie.  This brie had honey on it and some walnuts and it was amazing.
Then, for dinner, I had the Seafood Paella.  I don't have a Spanish background at all, but my mom used to like to make paella for dinner (thanks mom!). She always said that it was "quick to make and hard to mess up" since you just throw every seafood known to man into a pot with rice and…viola!
So, when I saw the paella on the menu, I decided that it was for me.  And I was right.  I spotted shrimp and calamari in it. I think there were also scallops and there was definitely rice and peas.  It was incredibly hearty (I don't think I'll eat for days!) and was just fantastic.
The ambiance is quaint and sweet as well.  I think it was a bit pricey.  I'm embarrassed to say that I happily did not pick up the tab. I watched my date's face in case he had a heart attack or anything…but he seemed to maintain his cool when he flipped over the bill. But, I'm guessing that he has a poker face because I think it was pretty steep.
Anyway – if you're in Ojai, get yourself over to Azu, or find yourself a date who wants to pay for you to do so. It was awesome!